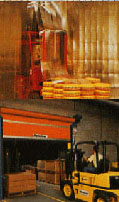 2. INDUSTRIAL PRODUCTS & SERVICE GROUP
Industrial Products and Service Departments. ( IPS ) We are representative and distributor of various "Industrial Products and Service", which are necessary for industrial factory. We have enough stocks for our customer 's needs. We are prompt to search new products and service, or new technology in order to undertake the advance industries. Our products and service are as follows :
2.1 PVC STRIP CURTAINS are widely used in many industries. It can help save energy improve worker comfort and safety and protect valuable products and equipment in your industry such as keep out the cold and damp, anti insect noise protection and dust prevention both clear yellow colour and thick 2-3mm.
2.2 ROLLER CHAINS, CONNECTING LINKS AND CHAIN SPROCKETS, therer are no.25, 35, 40, 50, 60, 80, 100, 120, 140, 160, 200 , Available Single, Double and Triple.
2.3 CHAIN HOIST ( HAND TYPE ) Available from 1/2 Ton through 2 Tons capacities and LEVER HOIST, The Heavy-Duty, Light Weight Lever Hoists for professionals, there are 0.5-6 Tons.
2.4 WIRE ROPE , there are Steel cord and Rope Cord, diameter of 1.5mm. -25mm. and POWER CHAIN there are both kind of drag and lift, diameter of 5.5mm. - 25mm.
2.5 CUTTING , WELDING and GRINDING EQUIPMENT.